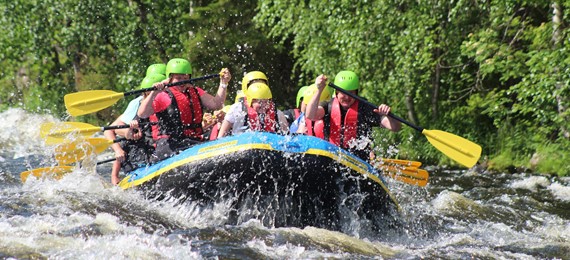 Photo by Anne Nygård on Unsplash
If 2020 was a rollercoaster then 2021 was a ride on the rapids! We have summarised for you the highlights and hurdles of an intense, fast paced and exhilarating 2021. 
What were the best bits of 2021?
Our top 4 high points of 2021 are:
We've worked with some great clients
This year we've had the opportunity to engage with a fascinating range of areas and apply an array of design research tools and methods.
In January we worked with Connected Places Catapult to deliver a GDS-style discovery looking at how the local plan consultation process currently works and how technology could be used to better meet the needs of citizens. Our partners Open Inclusion recruited and interviewed users with access needs while UX Centric provided UX design support, allowing us to deliver this complex project within the tight, 8-week timeline. We used focus groups, interviews and a survey to understand the needs of both planners and citizens. We then developed a user journey that illustrated the ways in which the current process both supports and hinders citizens who want to engage with local planning consultations. Using this journey we carried out an options analysis of ways in which the process could be improved and provided evidence for the option we felt most closely fit the needs of both planners and users, along with practical recommendations on how that option could be implemented. 
We worked with Health Education England and NHS England and Improvement to research the training needs of primary care staff around the use of remote triage and consultations. Through in-depth discussions with GPs, practice nurses, practice pharmacists and administrative staff, we developed a detailed understanding of the variety of experiences staff have had with different technologies. We are now developing a survey to go out in the new year, designed to gather further data and insight, before we feed the research results into the design of a specific training offer tailored to the needs of different general practice staff. 
With our partner company SnapOut we delivered research to startups developing innovative products in a range of sectors. We supported SnapOut in delivering a beta test for new technology to understand the burden regulations place on businesses and we worked with Accelogress and Urban Data Collective to understand the needs and behaviours of electric vehicle owners. For Store Performance we researched the type of data owners of quick service restaurants and coffee shops need to monitor and understand their businesses. For all of these companies, our focus was on giving them a clear understanding of their market and their users, so that they could make evidence-based design decisions that give their products the greatest chance of long-term success. 
We've also provided consultancy and advice to a range of companies on how to incorporate research into their design process in order to shape and improve their products and services.
Alongside all of this our CEO Frances Brown and our CRO Michael Brown have continued to work with Dublin City University, supervising students as they complete their projects for the Researching Interactions with Technology module.
We've been welcomed into new communities
We've taken up invitations to share our expertise and experiences with some new audiences. In January, our CEO Frances Brown joined a fantastic panel of research experts to discuss methodologies and mixed methods and in September spoke to a whole new Californian audience at a talk hosted by the Capitol Creative Alliance on the topic of developing a research mindset.
In the second half of the year we embraced opportunities to attend some in person events. We've gained useful insights and developed valuable relationships through attending the University of Nottingham Business Breakfast, the Institute of Directors professionals lunch and the CanvasX conference. 
...and overcome some obstacles
Like all rides on the rapids there have been times this year when we've had to paddle hard against the current. Like everyone the Nightingale team has experienced spells of lockdown, home-schooling and isolation which were tough going at times but with our skills in agile and remote working we thankfully stayed on course. 
After several months of searching we found new offices to accommodate our growing team in a great location at Beeston Business Hub. The challenge then was to source office furniture which was not an easy task with all the supply chain issues everyone has faced this year. Then there was the glamorous task of dealing with blocked drains but we'll spare you the details!
Hopes for 2022
We're hopeful that our intense but rewarding 2021 will propel us forward in 2022. Our plans include working with some great new clients on exciting projects, continuing to grow our team and share expertise and insights with our expanding network.
If you're interested in design research, or would like to work with us, please feel free to get in contact for a chat.