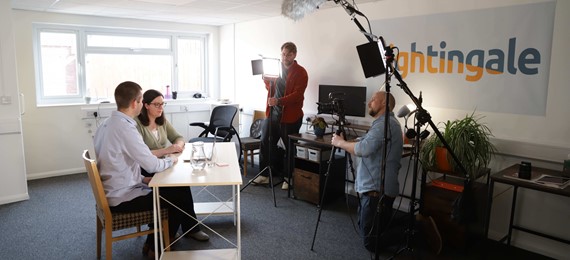 Hunnimoss films
When we rebranded in 2020 we launched a completely new website. We're always keen to practice what we preach so we carried out some user testing of our own site to see if it was easy to understand who we were and what we did. One of the things this highlighted was the need for a digestible explanation of what design research is, what it involves and what the value is. We decided a short video would do the trick.
In-house or professional?
Our first task was to decide whether to create the video ourselves or employ the services of a professional film production company. We considered whether we had the skills, experience and equipment required to make a video to the level of quality that we wanted for our website. We decided we just didn't know enough about it and that paying a professional company to help us would be a good investment. 
After a search, we selected Hunnimoss films based on their past work and on their approach, which chimed with ours. The type of work they produced seemed in line with the vision we had for our video, and their cost was within the limits of the budget we had set aside.
Our experience has showed us that employing a professional company was worth every penny. In pre-production they guided us through writing the script, they then evolved our ideas into a series of shots to film that would give us the right footage we needed to tell our story. They even created mood boards to help us source decorative items that fit with our branding to use as props and transform our stark, white, recently acquired office into a warm ambient film set.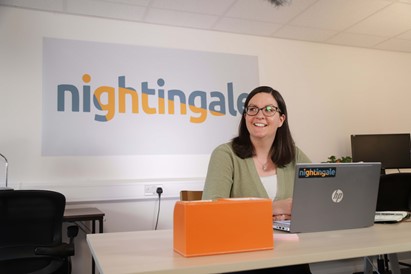 On the filming day itself (a full 8 hours) the film crew worked tirelessly rearranging furniture, meticulously placing props to dress the set, creating the right lighting and camera angles and filming us fluffing our lines in multiple retakes! In post production they edited the full day of filming down to a 1 minute 40 second video complete with graphics, titles and background music.
How do you communicate your message in a 1 minute 40 second video?
We love what we do and could talk about design research and the benefits of it all day! So how do you condense all that information down into a short video? To keep us focused we aimed our video at a target client persona. This helped us to zoom in on the key message and keep the language relevant. The process of developing the script was iterative, there were numerous redrafts of the script over several months, each version an improvement of the previous one as we learned by doing.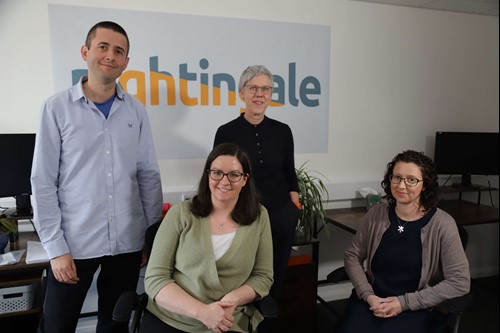 What obstacles did we face?
The process was by no means plain sailing. There was a phase of learning on both sides - we were learning the ins and outs of film production, and the production company were learning about design research from a standing start. Added to that we had no film location for several months due to the closure of our office building. Then we were faced will another national lockdown, meaning the film crew could not travel from Suffolk, plus the restrictions on meeting indoors meant filming was delayed by several months. By the time restrictions were eased we had found new offices but we had no furniture and no one had had a hair cut in months!
Filming is just saying your lines to camera, right?
When filming day finally arrived the Nightingale team turned up in carefully selected outfits ready to take turns speaking their learned lines to camera and then do a few 'B-roll' shots before finishing up for the day...or so we thought.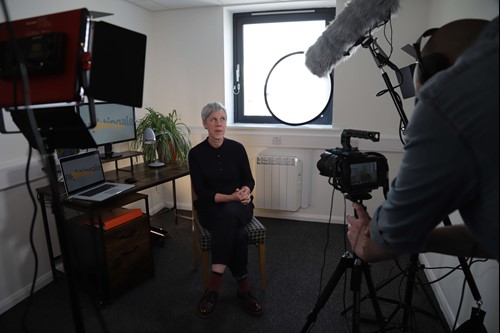 The reality was quite different, there was an amount of waiting around while the set was carefully prepared and then it was all action when the filming was in progress, before the set was disassembled and reassembled in another part of the office for a different series of shots.  
Filming the video was an intense experience because you have to remember your lines and deliver them naturally without reciting them, don't fidget, smile but don't laugh, and keep looking at the camera! The team found it incredibly enjoyable though thanks to the patience and skill of the film crew. The value of a professional production company is that they've worked with non-actors before, they'll know you need several takes to get the right footage and they have lots of tricks up their sleeve to help you deliver your lines.
Is it worth the investment of time and money?
Not only do we have a key piece of video content for our website and digital marketing but the process really helped us define and pin down what it is we do and how we do it. In addition it was a new and exciting experience (there was quite a lot of giggling!) that helped strengthen our team as we laughed together and encouraged and supported each other to push the boundaries of our comfort zones.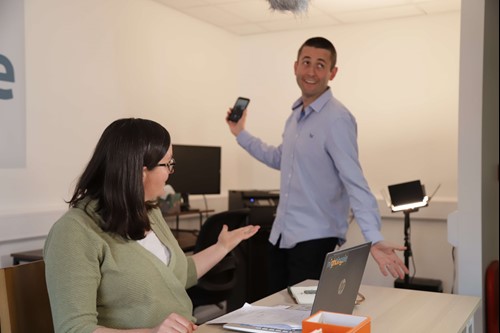 Top tips for creating a short video for your business
Have a clear idea of the target audience for your video.

Consider researching your target audience to create a persona. This will help you structure the content of your video to resonate with your target audience through using the right tone and language.

Work iteratively - it's not a linear process.

Be open to learning as you go. Having to redraft a script doesn't equate to failure, it's about integrating what you're learning as you go along. 

Brand brand brand!

When we rebranded in 2020 we set out clear guidelines for our brand from our logo and colour palette to our tone of voice. If you have these pre agreed guidelines you can use them as a foundation for decision making for a range of things from the overall look and feel of the video to what colour plant pots to buy! 

Think about where you are going to host the video upfront.

File size limits have a bearing on where you can host your video. If you want to host it on your own website, check the size limits to make sure it will work. There are upper limits on different social media platforms too. It's worth checking these in advance as it might be worth having a lower definition version.

Make sure you have subtitles.

It's important to have subtitles on visual media for accessibility and general usability. YouTube generates auto-captions that you can edit. But if you want to host it on your own website consider how you will caption it. We used Filmora to overlay captions but a production company can do this for you too (at a cost).
Watch the result of all our hard work and let us know what you think