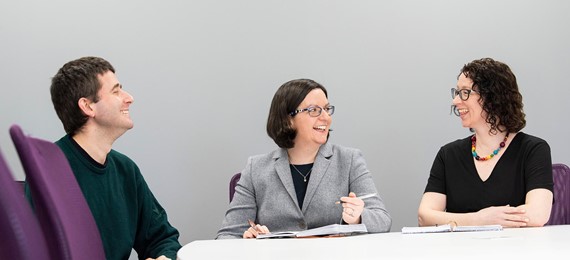 Back in 2016, my husband Michael and I had been working in UX/user research for a number of years. We had seen that there was a need, both in government and in the private sector, for experienced researchers who could run a whole user research project from start to finish, including planning, research design, execution, analysis and interpretation. So we took the leap and set up our user research consultancy, Fowlam.
The name Fowlam came from the Irish word foghlaim, which means 'to learn.' We chose the name to acknowledge my Irish roots and to emphasise the fact that we work with organisations to unlock the knowledge that is in their own workforce and their customers, allowing them to learn from the wealth of insights revealed by well-designed research.
After three years of success, during which we worked with government bodies such as UK Visas and Immigration, Health Education England and the Education and Skills Funding Agency, private companies of all sizes including LEGO and Commify and universities such as Balliol College Oxford and University College Cork, we decided to put our expertise to work in our own company to learn from our success and build on it.
Our first step, of course, was to carry out some user research. We spoke to some of our clients, to understand clearly what had and hadn't worked in the projects we had run with them. We also spoke to people who work in different aspects of the tech industry to identify how our work intersects with theirs and to understand how we might meet their needs more effectively.
Working with brand strategists Notepad and designer Lee Flanaghan from creative agency Warm and Fuzzy, we combined insights from our research with a wider understanding of the market to identify what we can offer our clients and how we can differentiate ourselves from other consultancies. We looked at where we wanted to be in five and ten years and brought it all together to form a plan for our company's journey, along with the values that we wanted to guide that journey.
Out of this process came our new brand – Nightingale Design Research. The name comes from Florence Nightingale, a pioneer and innovator, who used evidence, statistics and data visualisation to understand how living conditions impacted on health. Her work was responsible for huge improvements in the lives of British soldiers and people living in rural India and she represents, for us, a desire to improve the world through knowledge and understanding.
In keeping with how we've worked for the past three years, our brand values centre around the way in which we engage with clients – as an approachable, supportive partner focused on delivering bespoke research tailored to the needs of the company and its customers.
We will continue to design and deliver rigorous user research. Our new identity as a design research consultancy reflects the fact that our research isn't just about users, it's about shaping the entire design strategy of a company, from the generation of new product ideas, to scaling up teams to support the delivery of new services. As well as enabling clients to learn about their users by generating practical insights, we combine those insights with a deep understanding of their business to provide actionable design recommendations, giving our clients a real competitive advantage.