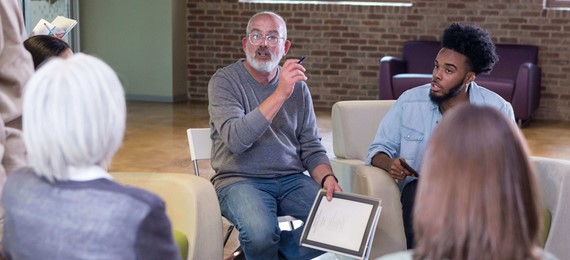 Our experience of working with a range of startups such as Accelogress and Store Performance is that companies that carry out design research at the very beginning of the design and development process have a much higher chance of success. Why? Because design research explores both your market and what your potential customers think, feel and do, allowing you to identify quickly and cheaply if your idea has genuine potential before any time and money is spent on developing it. It also uncovers new opportunities, giving you the chance to pivot early, before you get bogged down in pursuing an idea that has no future.
From our research you will get:
A real, in-depth understanding of your market and what you need to do to succeed in that market

A detailed, nuanced understanding of your users and what they need

A practical understanding of what your product or service must do to meet the needs of your users

An evidence-based plan to ensure your business achieves its goals
Want to know more? Download a guide to typical timings and costs
Design research for innovative ideas - process and methods
We will work with you to pinpoint what types of research will benefit you most, in terms of depth, time and budget. We will also source and recruit suitable research participants, either from your users/contacts or from our extensive participant database.
We will design a bespoke approach to give you the most useful and accurate insights, drawing from a range of different methods:
Interviews
Interviews are a powerful way to understand how your product or service might (or might not) fit into the lives of your users. They also uncover what you need to do, in terms of design, business model or marketing to ensure that your product or service attracts customers and delivers a profit. They are a great way to get detailed, rich and valuable data that puts you in a position to make strong, evidence-based design and development decisions.
We will work with you to source potential customers/users or industry/market experts and to design great interview questions that give you solid insights. We will then translate those insights into practical recommendations that ensure your product or service fits the market and is meeting the needs of your customers.
Want to know what interviewing involves, including time and cost? Download our quick guide.
Focus groups
Focus groups are different to interviews in that they are less about the specific details of a particular user and more about the interaction and discussion that happens when you get a group of users or customers together. Hearing how the group talks about a topic - the language they use, the way they agree and disagree, the memories and opinions they share - give valuable insight that can be hard to uncover in a one-to-one conversation. 
Focus groups generally involve between five and ten people and require a skilled facilitator to introduce topics and keep the discussion on track. We will work collaboratively with you to recruit the right participants and to design discussion guides that stimulate the type of discussion that delivers the insights you need. We'll analyse the focus group data and provide you with a clear and detailed guide on how to make the most of the information we've gathered. 
Surveys
Surveys are relatively low-cost and allow for remote data collection with fast turnarounds. In comparison to interviews, surveys don't give deep insights. Instead, they paint a more general birdseye view of people's experiences and opinions. 
Designing a survey that delivers clean data isn't easy. You have to pinpoint exactly what information you need and focus the questions on extracting that information. Together we will go over topics you would like us to cover. With us, there's the option of either sending them out to our research participants database via email or conducting the surveys in person. 
Market and competitor analysis
How well do you know your market? Who are your competitors? Who's up and coming? What are they doing? Before creating a new product or service, it's vital to understand whether that product or service will find a place in the market, or whether it is likely to get beaten out by competitors before it can get off the ground. This will help you define how unique and stable your product or service is. You will get a clear view of how you will disrupt or how you are already disrupting and any potential threats to your plan. 
Understanding limitations set by competitors and regulators is important when creating any new product or service. Through our research, we will identify what patents and regulations exist to help you avoid future issues. This will give you opportunities to create new IP and patents - allowing for a lot of leverage over competitors. A market and competitor analysis may cover overall growth of the market, which companies have grown within that market, what their offerings are, what their percentage market share is, what IP and patents they have access to and what upcoming trends there are in that market.
You know your idea is great - what's next?
Research doesn't just inform the development of your concept, it also informs every stage of the design process, ensuring that all your design decisions are backed up by a real understanding of what your users need.  
Read about how you can use research to iterate and improve your product design.