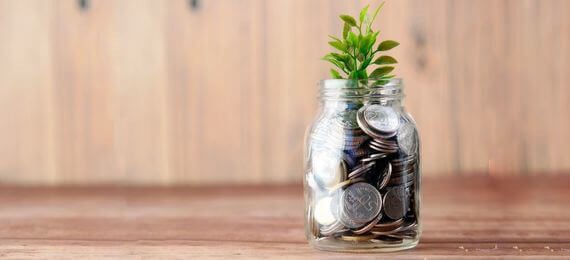 Photo by Towfiqu barbhuiya on Unsplash
Fundraising and accessing grant funds can be competitive. This means you and your business need to stand out from the rest. You need to show you know your market, customers and users. Design research can help with this aspect of your funding pitch or grant application.
Raising capital
Sometimes financial and funding decisions can be the catalyst for having to make some pretty big choices. Running out of cash or failing to raise capital is the reason why 38% of startups fail.
There are a number of options for raising capital:
Grant funding
Debt-finance
Equity finance
Whichever route you choose you'll need to know your market, customers and users.
1. Grant funding
You'll need to show customer and user needs, market growth and the route-to-market to get into the market to sell the product or service. This information may be desk research based on market analysis, competition analysis and gleaning information from experts or key customers.
2. Debt finance
To pay back a loan, you'll need to show that your business will be a success. The key to success of a business is that it can sell the products and services to customers and to sell to customers is to know them well.
3. Equity finance
Investors want reassurance that the core product or service has a customer base and is getting traction. You'll need statistics to show growth typically monthly revenue information but that there is room for growth to show that the investors will get a return on their investment. You'll need to show that you really know your customers and possibly have a plan for future markets.
10 tips for getting to know your customers and users
Raising funding and finance can mean doing a lot of background work. When it comes to getting to know your customers and users better, how do you get the insights you need?
Below are our top 10 tips for getting started on reaching out to customers and users:
Have a plan
Make the most of free information
Talk to the right people
Test, Test, Test
Choose the right method
Have outputs that translate your insights
Get stakeholder buy-in from the start
Capture data-driven metrics early on
Avoid 'Analysis Paralysis'
Know when you're in the wrong market

How to get the insights you need
Let's get into those ten pointers in more detail.
1. Have a plan
It can be tempting to dive right into research and delve into rabbit holes. But first, stop and reflect on what it is that you're actually looking to find out and why - this is your research question.
Then, create objectives as to what it is you need to know to answer this question such as "To identify key challenges faced when buying a washing machine".
Then, consider how you will get this information, is it from talking to people, looking at the competition or perhaps doing a survey.
Watch out for biases and assumptions early on in the research process. 
2. Make the most of free information
There is so much information available online and even within your network. Have a targeted search for the best results.
3. Talk to the right people
It is absolutely essential that you speak to the right people. Your friends and family will want to support you and will usually say positive things which is nice but not what you need. 
Create a targeted list of what your ideal customer looks like, you could use an 'Ideal Customer Profile' or a persona template for this.
This persona should be a typical person that represents your prioritised market segment. Then, speak to 5-8 people that fit that description. It can take longer than you think to find them and speak to them. You could even speak to key stakeholders, existing customers, employees and experts to answer your key question.
4. Test, test, test
Keep testing your product and service. It could be with new people or those you've spoken to previously but they still need to be the right people mentioned above. This will identify usability, performance and acceptance issues early on.
5. Choose the right method
Research is a broad topic and there are more methods than just interviews and surveys. We'd love to talk you through the methods and help you choose the right combination to fit your project. 
6. Have outputs that translate your insights
The insights that come from the analysis of the data can be translated into different forms. These will convert complex behaviours and processes into understandable and digestible outputs that designers and developers can apply to the product's design. Outputs include user stories, storyboards and customer requirements.
7. Get stakeholder buy-in from the start
Having key stakeholder buy-in is critical to a successful research project in your business as it will stay a priority, insights can be distributed and a repository can be used as a reference point for the organisation.
Having a research mindset to spark curiosity and keep team interested are really important for a creative culture to spur further innovation in the future.
8. Capture data-driven metrics early on
Showing the story of growth and traction for investors (e.g. in equity finance) is key. Having clear metrics that are based on data, which are part of a wider business strategy and are goal-based shows that you take measuring success seriously.
While metrics are important it is essential to keep conversations going with users and customers to stay ahead of any changes in the market (e.g. competitors). Metrics alone won't give you everything you need.
9. Avoid 'Analysis Paralysis'
As much as we love data, evidence, analysis and information, we know when to stop. Usually it's when we're not learning anything new and we keep focused so we don't go down tangents. Be aware of when you're procrastinating and avoiding 'doing' and working on your business.
10. Know when you're in the wrong market
Sometimes the market doesn't work as expected. You might discover that a problem or challenge is not quite as common as you first thought. Crucial insights like these are good to learn in the development stage rather than post-launch.
You can build on the understanding you have gained from your research about what people really need and experiment with new markets or a new product idea completely. 
Free tools
You could use our business case template to feed into your pitch deck or grant funding applications. We've also written a guidebook to help you build your business case and create a solid foundation for the development of your product.